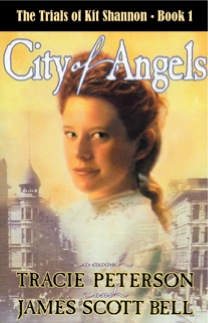 The Trials of Kit Shannon -
CBA Bestsellers
Book 1 -
City of Angels
Kindle
and
Nook
The courtrooms of 1903 Los Angeles are a man's world––until Kit Shannon arrives


With shoulders squared and dreams set high, Kit Shannon arrives in Los Angeles feeling a special calling to the law. Yet under the care of her socialite aunt, Kit quickly comes to realize that few understand her burning desire to seek justice and practice a profession known only to men. When her aunt adamantly refuses to support her unconventional career aspirations, Kit questions whether she is truly following God's will. And when her growing love for a man pledged to another threatens scandal, Kit knows her days might be numbered in Los Angeles.

A chance meeting with Earl Rogers, the city's most prominent criminal trial lawyer, garners Kit an apprentice position. And work on a notorious murder case. Someone has been killing prostitutes in Los Angeles, but Kit is certain it is not Rogers' client. Determined to find the truth, Kit runs full on into forces that want to stop her, forces that stretch all the way to the citadels of power in the City of Angels.
Book 2 -
Angels Flight

Kindle
and
Nook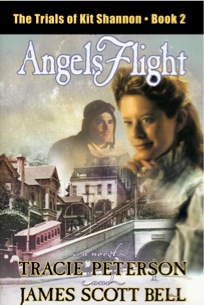 Nothing had prepared her for the hostility of a city gripped by prejudice . . .


With her first trial a dramatic success, Kit Shannon steps out from the protective and guiding hand of her mentor and begins her own law practice. When she is drawn to the defense of a man accused of a crime that crosses racial lines, Kit is unprepared for the prejudice and hatred that is hurled in her direction. A loyal supporter of the law, Kit struggles with the secret role of the very officers who claim to represent justice.

When a new suitor enters her life, Kit finds her heart longing to embrace the love he offers. His gentle care for her provides the support she needs as she faces opposition that continually grows more threatening. Could this be God's leading hand?


Book 3 -
Angel of Mercy

Kindle
and
Nook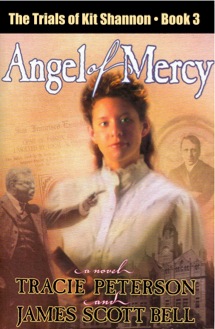 The courtrooms of 1904 Los Angeles . . . Clarence Darrow . . . President Teddy Roosevelt . . . William Randolph Hearst . . .and one young woman determined to crack the walls of the legal profession dominated by an old boys' network . . .

The bestselling, inspirational historical series continues.

When an old enemy of Kit Shannon is arrested on suspicion of murder, he insists Kit is the only one who can represent him. Refusing at first, but moved by his desperation, she agrees. His possible guilt tests Kit's resolve to represent only the innocent. Step-by-step, she discovers there is more to this case than meets the eye. Much more. Even as Kit seeks the truth, her personal life is in turmoil. Will Ted return? Will her great-aunt turn from the spiritualism so rampant in the city of Los Angeles? Kit knows she must use every ounce of intellect and faith she has to find the truth and save those she cares about.

Historical Romantic Suspense from Tracie Peterson and James Scott Bell





Book 4 -
A Greater Glory

Kindle
and
Nook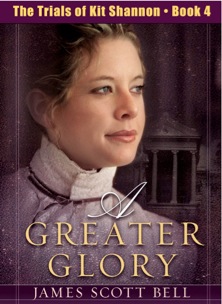 The bestselling series continues!


Having proved she's a legal success, Kit Shannon again battles injustices found in Los Angeles, the city she has come to love. She now takes up the cause of a society woman who fears her dark past will be exposed. Ted Fox renews his dreams of flying when he is called to New York to pursue air travel's future. But when he is arrested for treason, not only are his plans for marriage thwarted, but his very life is at stake. Kit's pursuit of justice has never been so important--or so personal.










Book 5 -
A Higher Justice

Kindle
and
Nook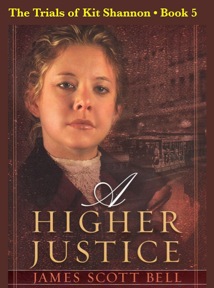 More courtroom drama from early Los Angeles!

As Kit Shannon defends a down‑and‑outer named Mousy Malloy on the charge of attempted murder, she also takes on the case of a woman whose young son is tragically killed by a Los Angeles trolley. Was the death of little Sammy Franklin an accident? Or could it have been avoided? As these two cases move forward, it becomes clear there is some sort of connection—one that could blow the lid off a conspiracy of corruption. And a web of powerful people who will stop at nothing to keep Kit from finding the truth.












Book 6 -
A Certain Truth

Kindle
and
Nook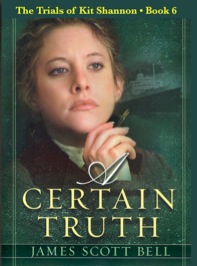 Murder Aboard Ship
Returning aboard an ocean liner from the Hawaiian Islands, Kit Shannon is contacted by a desperate woman, Wanda Boswell, who fears something terrible is about to happen to her. When Wanda's new husband turns up dead on the ship, Wanda looks to Kit for legal protection, and Kit decides to defend the young woman. The trial is to take place in a small port city south of Los Angeles, a city where corruption is the prevailing currency. But is it possible that Kit's client is not as innocent as she declares?